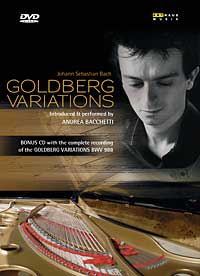 Johann Sebastian BACH

(1685-1750)

Goldberg Variations BWV 988 (1741)

●

Andrea Bacchetti (piano)

rec. Villa Trissini-Marzotto (Vicenza), Italy,

2006 (DVD) and Teatro Chiabrera, Savona, 17January 2007 (CD)

Picture Format: NTSC 16:9 performance, 4:3 documentary

Sound Format: PCM Stereo Dolby Digital 5.1 Region Code: 0

●

ARTHAUS MUSIK 101 447

[ DVD: 106:00 + cd 77:30 ]
With two different recordings of the wonderful Goldberg Variations played by Andrea Bacchetti in this package, this is something about which all Bach and piano fans can get a little excited.
Everyone should know the story of how Count von Keyserling; a sufferer from insomnia, requested Bach to compose him some music to relieve some of those long wakeful nocturnal hours. The work is supposedly named after Johann Gottlieb Goldberg, who may have been the first performer. Fourth in a series Bach called
Clavier-Übung
, the
Aria mit verschiedenen Veränderungen
was originally written for a two manual harpsichord, specified clearly by the composer as
Vors Clavicimbal mit 2 Manualen
. The choice of piano for their performance is of course now a common one, and Bacchetti rightly points out the expressive potential of the modern concert grand – and that the music of J.S. Bach is in fact pretty much the only kind of music you can play on any instrument.
Andrea Bacchetti is pictured on the cover of this release looking bonily handsome. With his typically thick glasses, quick, high voice and a genuine sense of intellectual and intuitional intensity the austere or languid impression of the picture is immediately dispelled in the documentary. Bacchetti's introduction is given in Italian, with a variety of subtitles available. This short 10 minute film is just enough to give some footage of the pianist trying different pianos, and giving his background and feelings on the music. Say, 'Goldberg Variations' and 'piano' in one sentence, and that sentence must regularly be completed by the name Glenn Gould. Indeed, Bacchetti's introduction to this music came when as a teenager he heard the classic 1955 Gould recording. Playing this new CD to my accompanist Johan the piano on the way to a gig recently, and the first dry comment he made was "I miss hearing someone singing along Bacchetti's interpretations of the variations, while having a few points of contact, are however clearly the result of a great deal of individual thought. These recordings therefore supplement and enrich not only those of Gould, but also those of great artists such as the elegantly sophisticated Murray Perahia (Sony), warmly expressive Andras Schiff (Decca or ECM), and more analytical Angela Hewitt (Hyperion) and others.
The aforementioned expressive qualities of the piano usually make for a degree of slowness and the lyrical drawing out of lines, but I don't find Bacchetti's tempi mannered or overdone. The arguments over harpsichord versus piano aside, the most contentious aspect of Bacchetti''s performing is probably that of ornamentation. There is quite a good deal of playful improvisation going on sometimes to the extent that you might be fooled into thinking he might be playing something by Couperin or Rameau in some of the slower variations. You might love or hate this, and I'm not going to attempt to be an arbiter on taste with this aspect of these Goldbergs. All I would say is give it time to sink in, to grow on you. Yes, there is a certain amount of distortion of the melodic lines here and there, some small adaptations of the rhythmic pace when the decorations threaten to take over, and the way the simple folk melodies in the final Quodlibet appear make for rather a busy climax. If you are anything like me you will probably start by thinking 'oooh, not too sure about this Before long you should find you stop even noticing the little trills and runs, and find the musical narrative unfolds for you like a beautifully told story or the rich tapestry of a journey seen though the eyes of another, in just the way I feel it should, in fact.
The DVD recording was made in an acoustic with more resonance than that on the CD, the elegant interior of one of the rooms in the Villa Trissino-Marzotto serving as a period backdrop to a modern Fazioli and it's incredible, bird-like driver. This recording is labelled as live' at a number of online sources, although this is not mentioned in the booklet, which has an extended and interesting interview with Bacchetti. I suspect what is meant that the performance is continuous and unedited, which would be a remarkable achievement in its own right. We certainly see him leave off one variation and start the next with no clever panning or editing to hide a coffee break. In any case, there are no pictures of an audience or extraneous noises on either disc, and with all the cranes and cameras which must have been involved I suspect there wouldn't have been room for anyone else in the Villa. The camerawork has some extended close-ups of the pianist's hands at work artfully caught as reflections in the pianos deep lacquer, and thankfully not too often mixed in with the rise and fall of the dampers. Less artfully caught in the deep lacquer of the piano are the blue jeans of one of the camera crew, but with microphones very much in evidence I appreciate the lack of pretence in the production, which has the feel of a continuous and well focused recital.
While presented as a bonus disc, I suspect that the CD included in this package may see heavier use than the DVD from many not that it is necessarily a better recording or performance, just that the convenience of just listening rather than having the TV screen competing for attention has many advantages for many people. The CD recording has a pleasant clarity, and a halo of acoustic resonance which has less direct effect on the piano's sound when heard at the Villa. There are some subtle differences between the two, but not enough to make you feel you are missing anything from the other when choosing. Bacchetti seems a little more light of touch in the Theatre, and he is more dramatic and certainly a good deal slower in the Villa as the timings show, but this difference is a side-effect of the environment and the acoustics rather than a change in philosophy.
Andrea Bacchetti is a serious performer in this music, and while you can sense the joy and inspiration he finds in Bach, the exuberance is somehow always measured and calculated, his approach lyrical rather than technically extrovert his legato is truly marvellous. A cool customer, there is not a bottle of water or even a cloth for brow mopping in sight on the DVD. He chooses a heavily dotted rhythm in variation 20, which while valid I still find a little odd, and there are some moments where, arguably, his approach to ornamentation leans a little too heavily on the rhythmic cohesion of some passages. While his attention to detail and intensity never lets up, Bacchetti does show he has s human side, and there are a very few places where the fingers don't quite behave with mechanical perfection lapses in concentration perhaps, which have to be expected over 80 minutes of continuous playing. Never mind, with a double dose of marvellous musicianship and a fresh look at some of the best music for keyboard ever written, who would deny this excellent production the place it deserves among the top choices in a crowded market –not me, nor my colleague Johan the piano, whose compliment "ik vind het best mooi" (It think it's quite beautiful) is hard won indeed.
Dominy Clements